Digital humans make their mark in real life
By Deng Zhangyu | China Daily | Updated: 2023-01-12 07:51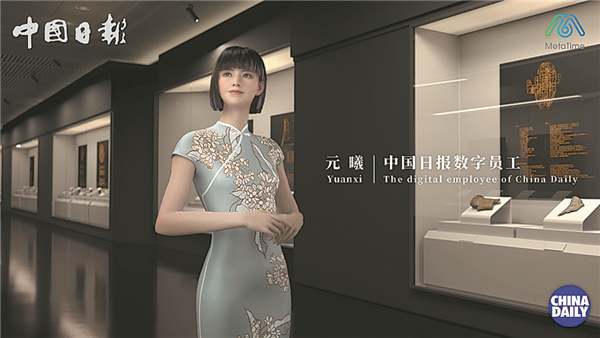 Virtual stars in demand for TV shows and online platforms
Virtual stars proved a resounding success at numerous New Year celebration galas hosted by television stations and video platforms to attract young audiences.
Designed to increase human interaction, these digital avatars are created by technology powered by artificial intelligence.
At the New Year's Eve gala staged by Bilibili, a short-video sharing platform popular with young people, celebrity virtual idol Luo Tianyi performed five songs in 10 minutes and appeared alongside real-life dancers to celebrate the 10th anniversary of her debut. The show attracted more than 1.4 billion views.
A virtual anchor created by Dragon TV played a flute and danced with celebrity singer Cheng Xiao during the Shanghai broadcaster's New Year gala, which was watched by tens of millions of viewers.
A virtual rock band caught the eye at a concert staged by Sichuan Television to mark the arrival of 2023. The band comprises five digital avatars based on cultural relics found at the Sanxingdui site in Deyang, Sichuan province, which is known for its exotic-looking bronze statues.
Ma Yuqi, joint director of the concert, said the band's appearance was designed to attract as many young audience members as possible.
The appearance of virtual beings at New Year galas staged by TV stations and online platforms reflects just how popular these figures have become in China in the past 12 months. The concept of the metaverse — where the physical world combines with the virtual — has also gained traction in recent years.
According to a report on the virtual people industry last year released by the consultancy company iiMedia Research in April, the estimated market scale of virtual humans was some 12.08 billion yuan ($176 million) and will reach about 20.52 billion yuan this year.
The report said digital beings are now used widely in the entertainment and cultural sectors as icons, anchors and employees. In China, this boom is largely driven by Generation Z — those born in the late 1990s or early 2000s, who are seen as being familiar with digital technology, the internet, and social media from a young age.
Ji Zhihui, who has observed the industry for more than a decade, said Generation Z members matured as the Chinese economy and technology developed rapidly. As a result, this group has taken to online activities such as watching videos, listening to music, and making friends. Generation Z comprises the majority of the metaverse's future residents, Ji said.
"In the future, internet users will migrate to the virtual world," Ji added.