Xiong'an area worker beams as he watches 'child' grow
By ZHANG YU in Shijiazhuang | China Daily | Updated: 2022-12-06 09:20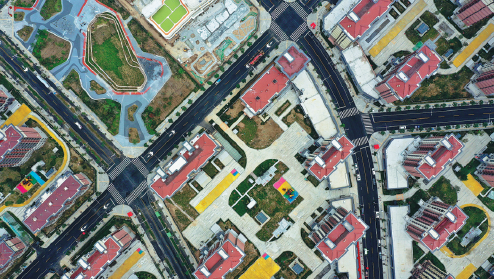 When his daughters grow up, Chang Yongshan looks forward to telling them about his work as one of the first constructors of China's future city, Xiong'an New Area, which is one of his proudest achievements.
"I'm going to take them on a tour of the streets in Xiong'an and show them the new city," the 41-year-old said.
"When we pass projects that I have participated in, I will say, 'See, that's your father's masterpiece'."
His girls attend school in Beijing's Daxing district-one is a fourth grader at a primary school, and the other is in her third year at a middle school.
Chang, who grew up in Daxing, worked in the capital for 12 years after graduating from university.
He came to Xiong'an in neighboring Hebei province in early 2018, less than one year after the new area was established.
"I offered to work in the new city because I wanted to be involved and witness the emergence of China's future city, which will be quite remarkable," he said.
About 100 kilometers southwest of downtown Beijing, Xiong'an was set up in April 2017 and will be developed into a high-level modern city.
With a planned area of 1,770 square km, Xiong'an is an area of national significance that follows in the vein of the Shenzhen Special Economic Zone in Guangdong province and the Shanghai Pudong New Area.
It aims to set an example for high-quality development in the new era.
"People of my age didn't have the opportunity to participate in the development of Shenzhen and Pudong. I just wanted to seize the opportunity to be involved in Xiong'an," he said.
Chang is an employee of the listed State-owned company Taiji Computer, an affiliate of the China Electronics Technology Group, which was among the first group of companies from Beijing to resettle or set up branches in Xiong'an.
When he came to Xiong'an for the first time, Chang was astounded by the ordinary appearance of the place. "It's no different than China's other counties and villages," he said.
It was his later involvement in the development of Xiong'an that made him confident and long for great changes to come.
His company officially set up a branch in the area in 2019, with a mission to participate in building the intelligent city by providing IT products and services. Chang is the general manager of the branch.
He is happy to discuss his company's achievements, which include a navigation app.
With the guidance of the app on his cellphone, Chang easily found a meeting room he had booked at a business service center in Xiong'an one day.
"The app can plan the most convenient routes for users in both indoor and outdoor areas," he said, adding that projects like this make him most proud.
The Xiong'an Business and Service Center, a key site housing relocated enterprises and institutions from Beijing, is the area's first landmark building complex.
"When people come here, they can feel what the new modern city will be like, how smart it will be," Chang said.
"Visitors will be reminded automatically through their phones or a speaker if they forget to take their bags when they are about to leave after a meeting," he said, giving an example.
From a few staff members to a team of more than 100, Chang's branch has expanded as more IT projects are needed in Xiong'an.
Most of the workers are from Beijing. They used to commute by car, which took about two hours each way.
But since a high-speed rail line linking Beijing and Xiong'an opened in 2020, travel between home and work has become easier.
"For me, a single journey now takes only about an hour from my office in Xiong'an to my home in Daxing," Chang said.
"I hope that in the future, I can settle here and contribute more to the development of the smart city. To us participants and constructors, Xiong'an is like a child. We see the child grow day by day and become better and better, filling us with pride."